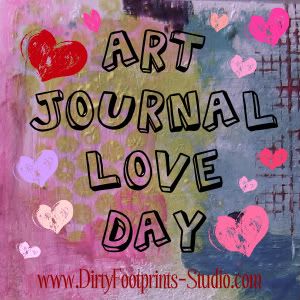 In celebration of LOVE, Connie at Dirty Footprints Studio is have an Art Journal Love Day!! Head over and join in the fun!
LOVE is FREE. It is not something that you have to earn. I still struggle with being "good enough". I still struggle with conditions being put on love and acceptance. I never want to do that to anyone. I want to love - no matter what. If I say it - I mean it - I show it. It's free. You don't have to do any more to get more. I'm thankful for an Unconditional Love from my Heavenly Father. I want to love like Jesus loves.
I did these pages in an old, hard-backed Discovery and Exploration Atlas History. A friend of mine gave it to me to use for the text pages in my art work. After looking at it for a while, I decided that I would rather use it as a journal. This Love prompt was my first piece in it. Here's what it looks like.
Here's the outside...
The inside cover...

This is what some of the pages look like...


I know...some of you must think it's a pity to paint in a book like this - but I LOVE it. History and geography are some of my favorite subjects and now I get to mix some art into it?? Perfect!