Simple As That
blog:
Simple Things Sunday ~
The reminder to take notice of the simplest of moments, the excuse to pull out my camera and capture the everyday and especially for the chance to see all of your beautiful photos!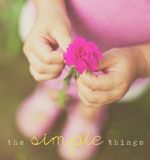 Time-Warp Wife
blog:
"31 Days of Love" Marriage Challenge
~ For example: Day 1:
Read 1 Corinthians 13 (the love chapter) and jot down some of the thoughts that come to mind such as:
What is God's definition of love?

What are the characteristics of love?

In what areas of "loving" do I stumble the most?

What are a few of the steps I can take toward change?
Good Morning Girls
blog:
1 John Bible Study
~ You have a reading schedule (just a verse or two a day). I have been keeping my notes in a notebook that I altered and I am LOVING this Bible study. The book of 1 John is so powerful. I am enjoying it immensely! You can join one of the groups to be accountable to or you can work on your own. This was her introduction to the study:
We'll be taking baby steps this week as you focus on 3 things:
1. Rising early in the morning! This means you might need to go to bed 30 minutes earlier
!
2. Getting the method of SOAP down
3. Connecting with your Good Morning Girls group
Women Living Well Ministies:
Making Your Home a Haven Fall Challenge
~ This challenge is right up my ally. Each week, Courtney will post one practical tip and one spiritual tip towards helping your home be a haven. I love this kind of thing because even though I may do some of these things already, this brings it to mind and helps me to be more thoughtful of why I do them.
For example: This is the first challenge for October 3rd ~
Go buy an extra large candle and light a candle everyday in your home.
Each time the candle catches your eye, say a prayer for peace in your home.
Balzer Designs: Art Journal Every Day ~

Julie Fei-Fan Balzer hosts a place for you to share your daily work in your art journal. She encourages you to work in your art journal every day, even if it's for 15 minutes only. She also shares tons of advice, techniques and inspiration and often has guest hosts for the day to share how they keep up with it all. There's a new link up every month.
I enjoy participating in challenges that I can keep up with. I have a very busy schedule, but I love to learn new things and share what I'm learning. If you know of a cool challenge you think I'd like - let me know. Click on any of the buttons to go to the original blog to learn more about each one.