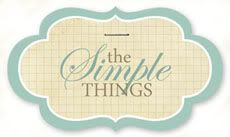 On Sunday mornings, my husband leaves the house to go unlock the church building, turn on the heat or air conditioning (depending on the weather), and pray for our day ahead. The rest of us are at home getting ready for church,knowing we better be just about ready when he came back for us.
I can't remember when it started, but he began bringing home a Starbucks coffee for me. I think it was when the Pumpkin Spice Lattes had come back and he wanted to surprise me. Well, he's been bringing me a coffee every Sunday morning since. There have been a few times where he was unable to get to Starbucks, but on those days he'd make me the best brewed coffee and bring it up to our room. A simple act of love, but one that means the world to me. =)
Share your simple shot each week - click on the tag above to join in the fun!